Open Top Storage Tanks
Toronto-based ACO is a North American poly-processing company producing a wide range of industrial, specialty and transportation storage tanks in a variety of sizes and capacities to meet all your requirements.
ACO's open topped tanks are perfect if you want to be able to have access to the whole tank.
Manufactured out of high grade polyethylene HDPE or XHDPE/XLPE resin, our seamless, one-piece, durable tanks are FDA compliant and listed as NSF 21, which means they are suitable for use with potable water.
This type of open tank is also widely used for processes that involve dissolving mixes with water, for example in the preparation of powdered foliar feeds, pesticides, etc for spray application.
In addition, they are commonly used for mixing and blending other types of liquid mixes (paint, grout, animal feeds etc) and can be supplied with a mixer mount, hinged lid, baffles and fittings for use with appliances, if desired (available separately).
These open storage tanks are perfect for storing non-corrosive liquids or other contents that need to be kept at hand for use on a frequent basis, and they serve as excellent secondary container tanks.
Fabricated to ASTM specifications, ACO' one-piece tanks are extremely rugged, durable and stabilized against damage by the sun's ultraviolet radiation. They are also designed to resist low temperature impacts, so are suitable for cold storage areas and cold outdoor conditions in the USA and Canada.
ACO's open storage tanks come in an extensive range of sizes and capacities to meet your needs and specifications. We also have a range of optional accessories, including mixer mounts, hinged lids and other attachments to facilitate your mixing processes. Please contact us for more information about your particular requirements.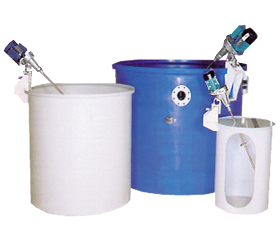 Resistant to corrosion
Resistant to chemicals
Low temperature impact resistant
Durable and seamless one-piece construction
Complies with ASTM specification
Stabilized against UV damage
Available with Mixer Mount (optional)
Available with Hinged Lids (optional)
Excellent range of volumes and sizes
Suitable for liquid densities (specific gravity) of:

Less than 1.5
Less than1.9 and
Less than 2.2 tanks are also available)

Molded out of from HDPE or cross-linked polyethylene (XHDPE/XLPE)
HDPE resin is FDA compliant and suitable for use with potable water (listed NSF 61)
Tank fittings supplied apart (on request)
Open Top Plastic Tanks
Capacity
Model
Imp. Gallons
Litres
Diameter
Height
Manway
OT-5
5
22
11"
18"
Yes
OT-9
9
40
15"
16"
No
OT-15
15
68
16"
23"
Yes
OT-17
17
77
18"
21"
Yes
OT-25
25
110
16"
36"
Yes
OT-30
30
136
18"
37"
Yes
OT-36
36
160
18"
39"
Yes
OT-45
45
200
22"
36"
Yes
OT-50
50
220
22"
40"
Yes
OT-60
60
270
22"
44"
Yes
OT-66
66
300
26"
38"
Yes
OT-75
75
340
24"
47"
Yes
OT-100
100
450
30"
45"
Yes
OT-125
125
560
30"
48"
Yes
OT-150
150
680
37"
45"
Yes
OT-175
175
790
36"
49"
Yes
OT-178
178
800
30"
73"
Yes
OT-220
220
1000
55"
34"
Yes
OT-240
240
1080
43"
50"
Yes
OT-300A
300
1360
48"
50"
Yes
OT-300B
300
1360
55"
41"
Yes
OT-400
400
1800
55"
50"
Yes
OT-500
500
2200
55"
62"
Yes
OT-750
750
3400
70"
58"
Yes
OT-1000
1000
4500
70"
78"
Yes
OT-1250
1250
5600
70"
93"
Yes
Usage Types are (but not exclusive) or Which Industries use this kind of tank:
Water
Collecting & harvesting rain
Agricultural chemicals
Industrial chemicals
Liquids it can hold: