Corporate Profile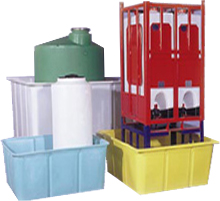 ACO is a North American leader in the manufacturing of high quality, rotationally-molded tanks and other rugged polyethylene products.
ACO's durable tanks are seamlessly molded in one piece out of premium grade linear (HDPE) or cross linked (XHDPE/XLPE) polyethylene and are available in a diverse range of capacities and sizes to suit a variety of processes and applications.
We have stringent standards of quality control to make sure that the ACO molded tanks and other products are always consistently reliable and perform to your needs and expectations. Our tanks meet the ASTM-D-1998 standards and we are ISO 9001:2015 certified.
Manufactured out of high grade polyethylene, our tough and durable tanks are some of the strongest, most reliable and most resistant on the market and in fact can resist chemical erosion better even than mild steel, stainless steel or FRP. The HDPE resin complies with FDA and is listed NSF 61 for potable water applications.
ACO manufactures a complete line of plastic storage tanks, double wall tanks, open top tanks, chemical and industrial storage tanks, pallet tanks, transportation tanks, horizontal tanks, flat-bottomed round tanks, shipping containers approved by Transport Canada and the United Nations, as well as food hoppers for powder/granular applications and other custom-made, specialty polyethylene tanks and products.
Our storage tank systems have successfully served in the chemical process industry, oils/lubricant market, adhesive companies, food and beverage industry and many others or the past 40 years.
If you don't see the exact specifications you are looking for listed on this site, our special custom design team can create and manufacture a tank to fit your particular requirements. Your custom project will be submitted to the same rigorous and exacting professionalism as with our standard sizes so that you receive a high quality, reliable and painstakingly engineered final product that serves your needs.
If you would like to discuss your custom project needs with us, please contact our customer service team who will be pleased to assist.