Custom Tanks
Custom Tanks
Can't find the tank you need among those we offer? Do you have special needs or constraints, such as space? We manufacture high quality custom-made polyethylene tanks according to your needs, for both solid and liquid materials (whether hazardous or not).
To do so, we collaborate with our sister company, Rotoplast Inc, a Canadian leader in rotational molding based in Quebec and serving customers across the country and around the world.
ACO Container Systems can economically custom-design and manufacture specialty polyethylene plastic tanks to meet your specifications. We apply the same careful engineering, high quality materials, and painstaking manufacturing processes to complete your project in a timely and professional mannner. As always, rigorous quality control systems ensure a reliable product. Please contact our Customer Service department to discuss your needs.
A 100% Satisfactory Custom Tank
We guarantee that the end result will meet or exceed your expectations. Quality, durability and compliance are the hallmarks of all our custom projects, which are delivered on time.
From our first meeting, we will listen carefully and ask the right questions to help us design the tank that will make your life easier, at a reasonable price.
Design, manufacture and installation of tanks adapted to your needs
When designing your custom tank, several elements will be determined. We will evaluate together :
the exact type of tank you need. Open or closed vertical tank? With a conical bottom? With or without accessories? Transportable pallet tank? Horizontal tank? These are just a few of the options available to you.
dimensions (height, width, depth, diameter, etc.);
capacity;
insulation;
the color;
the base (it can be flat, inclined or conical);
the head (it can be flat or domed);
the manhole (the manhole comes with a standard size and we can offer the option of a different size if possible);
the valve(s) (different types exist);
the breathing valve (pressure-depression)
the gauge;
the drainage outlet;
Even more options for your turnkey project
Need additional accessories? Here are some ideas that might be useful.
The ladder rack
The leakage probe
The identification plate (to display your company name and logo)
Different fittings, in welded HDPE materials, PVC fittings, polypropylene, stainless steel, etc.
We look forward to helping you with your custom tank project!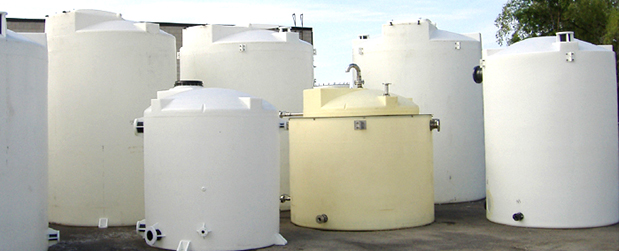 Custom Tanks
Usage Types are (but not exclusive) or Which Industries use this kind of tank:
We customize our various lines of tanks that are polyethylene. If you want to create custom tanks, this can be created working with our sister company Rotoplast Inc.
Liquids it can hold:
Built according to your specific application