Pallet Hoppers
ACO pallet hoppers are designed to store and transport powdered and granular products such as many chemicals, salts, detergents, fertilizers, foods, and other industrial dried goods.
The shipping and other costs of transporting these goods dried as opposed to in liquid form is significantly reduced and these products can easily be reconstituted within the hopper or one of ACO's other high quality storage/mixing tanks when they arrive at their destination.
The reduced load size and weight of goods in dried as opposed to liquid form results in significantly greater quantities of dried goods being moved per ship/truck which reduces the use of fossil fuels and means less damage both to roads and the environment.
The other great advantage is that pallet hoppers take up far less floor space in processing plants than does the liquid version of the product.
ACO's "PH" series of pallet hoppers have a heavy duty steel frame with an 8″ bottom outlet and come equipped with a sliding knife-gate valve. All models come with either 10″ or 21″ threaded cover lids and are accessible by fork lift for ease of lifting.
Our pallet hoppers come with a blue powder coated finish as standard. Other colors are also available on request.
The storage tank part of our pallet hoppers is a seamless, one-piece tank manufactured out of high grade HDPE or XHDPE/XLPE polyethylene that is tough enough to resist chemical erosion even better than mild steel, stainless steel or FDP.
Moreover, like all our polyethylene products, ACO pallet hopper tanks are fabricated to ASTM specifications, and are very rugged, durable and stabilized against damage by the sun's ultraviolet radiation. They are also designed to resist low temperature impacts and so are ideal for cold storage areas.
For more information about ACO pallet hoppers or any other of our polyethylene storage products please contact our customer service personnel.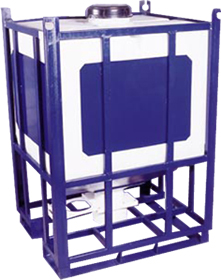 ACO Pallet Hopper "PH" series
Designed for granular and powder applications
Large 8″ bottom outlet
Sliding knife gate valve at bottom outlet
10″ threaded lid or large 21″ threaded cover available
Heavy duty steel frame with fork left access
Durable blue powdercoat finish, other colours available
Granular & Powder applications IBC tote